"Did you know that 10 minutes of exercises on Whole Body Vibration trainer is equal to 30-40 minutes of weight training? This makes Whole Body Vibration exercise programs ideal for busy people who desire to keep active but do not have enough time."
The Whole Body Vibration exercise programs are based on 30 years of research. Whole Body Vibration (WBV) was initially used in Europe in late 1800's for exercise and therapeutic purposes. WBV has been used to treat bone and lean muscle mass loss in astronomers who spend considerable time in space.
The WBV trainer is an oscillating platform with a frequency on 5 to 50 Hz. The WBV trainer induces vibration that transmits through muscles bone and soft tissues. Each muscle in order to do its job of holding specific postures has to overcome the vibration first and then hold the position. Research shows to do this 95% of the muscle fibers have to fire. In addition, since the vibration transmits through the whole body there is no escape for all other muscles, bones and soft tissues of the body from the effect of vibration. Therefore, as a natural response they are all activated. This activation counts for overall increased metabolism and increase overall strength, power, endurance, decrease body fat, increase bone density, Growth Hormones (fountain of youth, elixir of life),  testosterone (increase energy and reproduction), Serotonin and Dopamine (Happy Hormones), blood circulation (increase healing and metabolism), lymphatic drainage (removal of toxins and rejuvenating tissues) and neuromuscular enhancement (increase strength and power).
This overall activation of all tissues counts for the fact that 10 minutes of exercises on WBV trainer is equal to 30-40 minutes of weight training. This makes Whole Body Vibration Exercise programs ideal for busy people who desire to keep active but do not have enough time. At Full Potential Academy we guarantee full body training, showered and out in less than 30 minutes.
WBV has been also used in athletic population extensively starting in Russia, Europe and now here in North America. Research indicates the same results have observed in Athletes as well as lay person. Competitive Athletes will gain the edge that they need to win in strength, power, endurance and overall performance participating in our WBV programs developed by our Sports Specialist.
Falls are one of the most common causes of injury and death in elderly. Falls in elderly are usually as a result of decrease strength, balance and bone density. WBV program with its soft nature exercise, enhancing balance, hormones and bone density, is the perfect exercise for elderly who desire to increase their strength, balance, bone density and overall wellness. WBV is the only exercise shown recently to increase bone density in post-menopausal women 60-70 years old.
Specific WBV programs are designed by our Sports Specialist to help you achieve your goals, from increasing your bone density, losing weight, strengthening your core to specifically focusing and strengthening your upper or lower limbs.
Benefits of Whole Body Vibration Programs
Muscles
Increasing muscular strength
Enhancing muscle flexibility
Improving muscle elasticity
Expediting recovery of muscle fatigue
Relieving muscle pain
Joint, tendons, connective tissue
Increasing muscle flexibility
Decreasing adhesions
Blood Vessels
Improving blood circulation
Enhancing metabolism
Reducing edema with muscle pump increase
Hormones
Increasing growth hormones also known as youth hormones
Increasing productivity of Testosterone hormones
Reducing newly forming cortisol hormones also known as inflammatory hormones
Increasing serotonin hormones and neurotophine so called happy hormones
Nervous System
Improving sensitivity of nervous system
Skin
Accelerating drainage to lymph and vessels with increased blood circulation
Reducing cellulite
Improving skin quality with increased muscle strength and collagen
Bone
Preventing and healing osteoporosis
Helping recovery of cartilaginous tissue
Fat
Burning fat to reduce body fat
Stimulating abdominal muscles and helping metabolism to reduce fat in abs area
Basic Principles
Whole Body Vibration Exercise (WBV) are based on holding a specific position on the vibrating plate for a specific duration of time. Each position described in this book is designed to specifically target certain muscles. However, other parts and muscles of the body are not exempted from getting stimulated by vibration and will be stimulated in lesser degrees.
In general, one would start with easier positions and work towards the harder and more challenging ones. The progression of holding each position would from short 10 second and working towards holding to maximum duration. When maximum hold time has been obtained, one can decrease the rest time between each exercise to increase the intensity of the programs.
In summary:
Hold specific position for specific muscles.
Start from easy position and work towards more challenging ones.
Start with holding a position for short time and work towards holding the position for full duration as recommended for each program.
To further intensify each program once you reached the maximum hold time and felt comfortable, you can decrease the rest time between each exercise.
Beginners 1-11 Minutes
MOTION (DIAGRAM)
at 20- 40 HZ Frequency
HOLD FOR
(seconds)
REST FOR
(seconds)
CALVES

60
20
SQUAT

45
–
DEEP SQUAT

45
20
LUNGE

Right: 30
Left: 30
10
PUSH UP

30
10
TRICEPS DIP

30
20
BASIC ABS

30
20
HAMSTRING STRETCH

45
20
QUADRICEPS MASSAGE

45
20
HAMSTRINGS MASSAGE

45
20
CALVES MASSAGE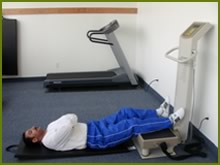 45
20
This is an excerpt from the book "Vibration Plate Exercises" by Dr. Kazemi – Doctor of Chiropractic. The first complete book on vibration plate exercise programs. Step by step. Easy to follow.